KING OF PRUSSIA, Pa. — Oct. 4, 2017 — A clear majority (67 percent) of Americans would be willing to take a genetic test to determine the best treatment plan for mental illness if recommended by a doctor — an increase of 4 percent over last year, according to the 2017 Genomind Mental Health Poll™. While people are even more open to taking a genetic test if diagnosed with cancer (76 percent), heart disease (75 percent) or diabetes (72 percent), the disparity between the acceptance of genetic testing for mental health treatment and for the treatment of those other chronic illnesses is shrinking.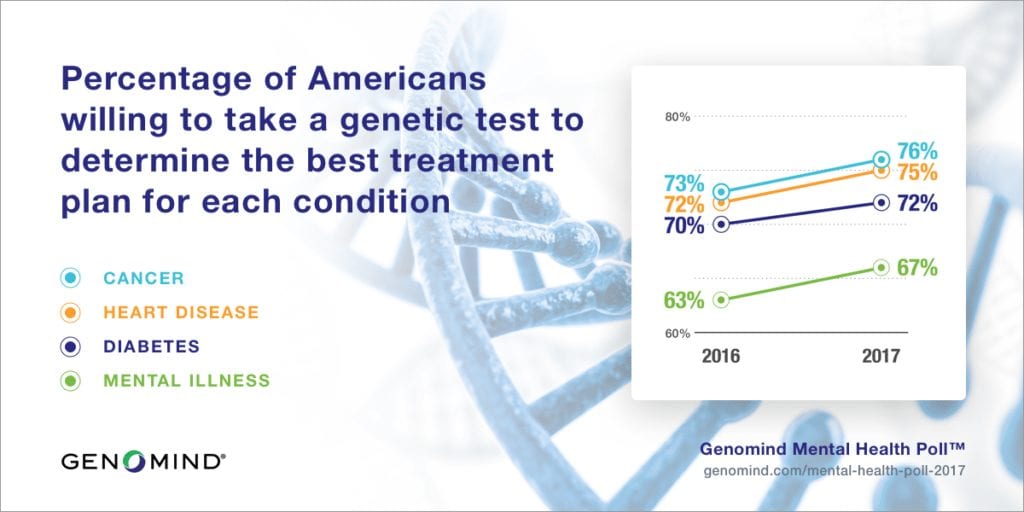 The largest increases in support for genetic tests for mental health treatment have come from those who know someone with a mental illness, minorities, people in the West and South, and those who are in the millennial and Generation X age categories.
Personalized medicine, of which genetic testing is a key component, remains very popular, with 68 percent excited by its development.
Genomind, the poll's sponsor, is a personalized medicine company bringing innovation to mental healthcare. President and CEO Michael Koffler says, "We are proud to underwrite this poll and release it during Mental Illness Awareness Week, as it's essential we understand the progress that has been made, as well as the challenges that exist in understanding conditions of the mind. Clinicians, researchers and advocates are to be commended for the increased understanding and acceptance we have seen over the last year in terms of more effective ways to treat these patients utilizing personalized medicine."
More Americans Say They Know Someone with a Mental Illness
This genetic test interest occurs as an increasing number of Americans say they know an immediate family member, relative or friend diagnosed with mental illness (31 percent, which is up 3 percent in the past year). This increase was especially noticeable among Hispanics (9 percent increase) and those in the South (8 percent increase), compared to just a year ago.
At the same time, over three out of five Americans feel not enough attention is given to mental illness compared to other diseases, such as cancer, heart disease and diabetes. A close relationship with mental illness is a driver of this view, with 71 percent of those who know someone with a mental illness feeling there is a lack of attention placed on mental illness, compared to the 58 percent who don't know anyone with a mental illness holding this same view.
Nearly half of Americans (46 percent) say issues like depression and anxiety should be treated with medicine prescribed by a trained clinician; millennials posted a seven-point jump over last year's answer to this question.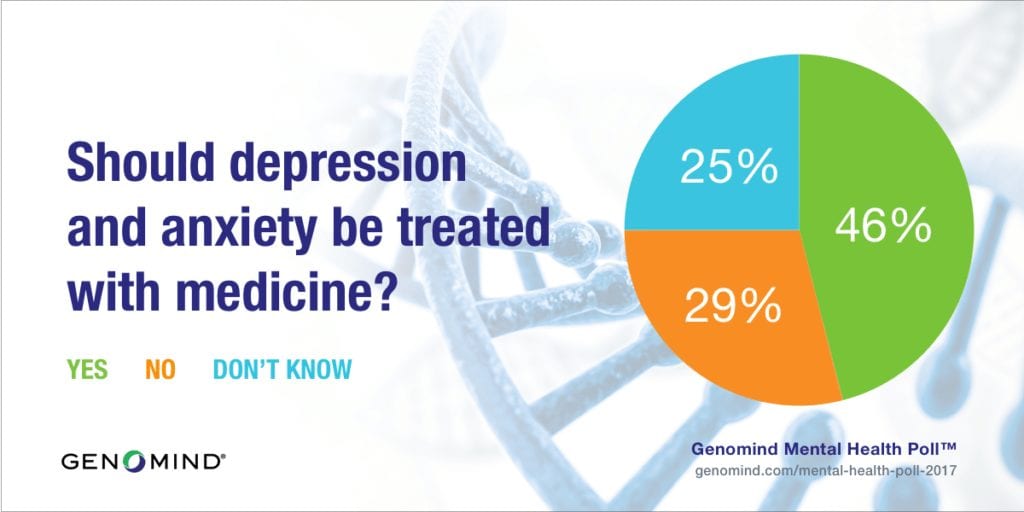 Twenty percent of poll respondents say they have been diagnosed with a mental illness.
Additional Money and Attention Needed for Mental Illness
Over 60 percent of respondents think that we should be spending more on mental health treatment and the majority oppose the Trump administration's proposed budget cutting $700 million for mental health and drug abuse research and treatment. Baby boomers and people who know someone with a mental illness are most likely to think we should spend more.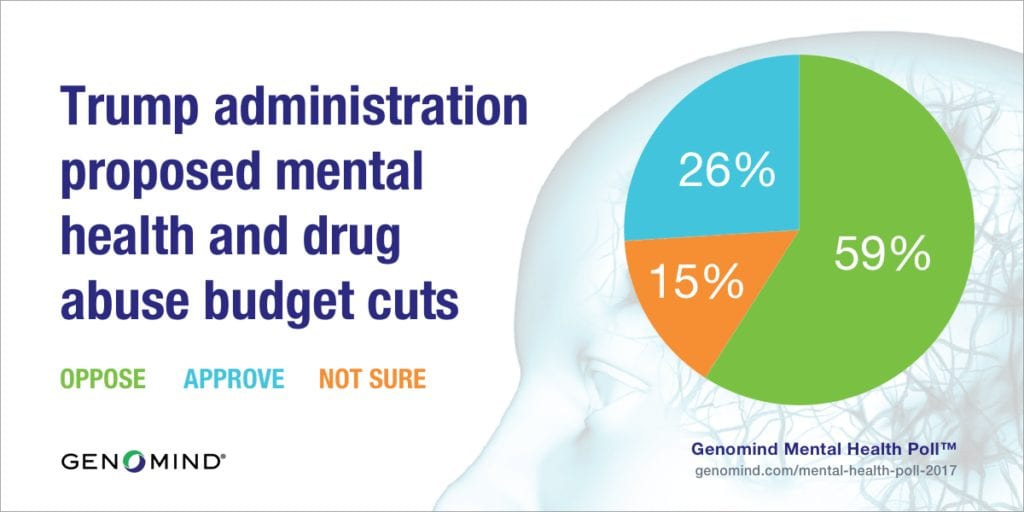 Athletes Are the Most Effective Advocates for Mental Illness
As USA Today and others have recently reported, an increasing number of athletes have discussed their issues with mental illness. The poll finds this to be a successful way to share information, as athletes are seen as the most effective advocates for this issue, followed by celebrities, elected officials and then CEOs.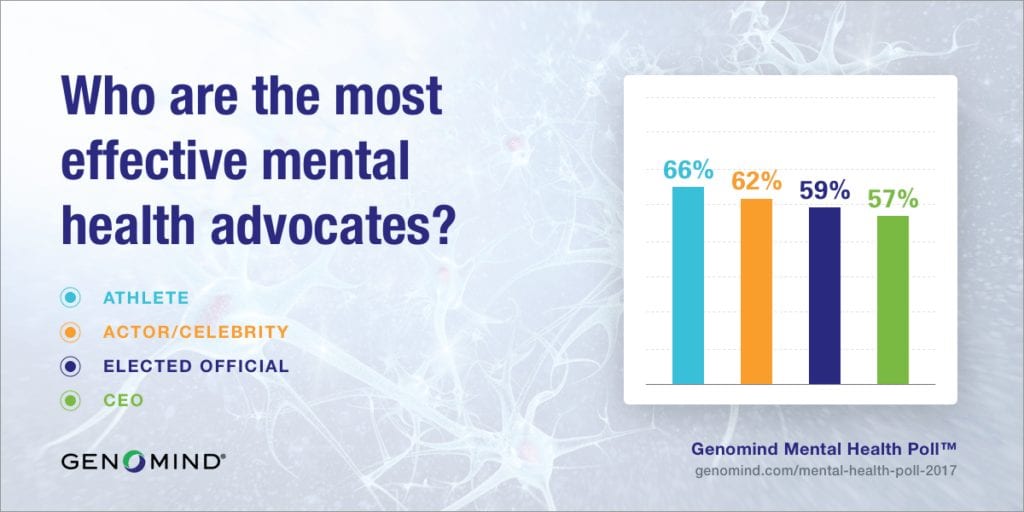 Paid Mental Health Days Are Rare
The poll also has findings relevant to the national conversation about mental health in the workplace. An employee recently initiated conversations on the topic when she took a mental health day and was commended by her CEO. Less than a quarter of Americans say they have received paid mental health days; however, millennials are more likely to have received them than boomers. A majority (68 percent) think it's very or somewhat important that companies offer paid mental health days.
Americans See Healthcare as Number One Concern
Healthcare in the U.S. has become the top concern of Americans, increasing by six points in just a year and now ranking higher than terrorism, the economy or education. Concern about healthcare increased the most among millennials and African Americans. Overall, Americans don't think the country's healthcare system has gotten any better, and fewer millennials and minorities rate it as "excellent" compared to a year ago.
Poll Overview
The Genomind Mental Health Poll 2017 is based on 1,000 interviews that were conducted September 7–11, 2017, by internet survey. The Bayesian confidence interval for 1,000 interviews is 3.5, which is roughly equivalent to a margin of error of ±3.1 at the 95 percent confidence level. The independent poll was conducted by Lincoln Park Strategies.
About Genomind
Genomind is a personalized medicine company bringing innovation to mental healthcare through genetic testing. Genomind is comprised of pioneering researchers and thought leaders in psychiatry and neurology and specializes in pharmacogenetic laboratory testing for psychiatry. Genomind is committed to partnering with clinicians to improve their patients' lives. Learn more at www.genomind.com.
About the Genecept Assay
The Genecept Assay is a genetic test designed to help clinicians optimize treatment decisions for their patients with mental illness. It identifies patient-specific genetic markers that indicate which treatments are likely to work as intended, have no effect or cause adverse effects. It is an easily administered cheek swab test that analyzes key genes that have been selected based on hundreds of studies showing that variations in these genes can inform treatment decisions. The Assay is used to guide treatment for a range of psychiatric conditions, including depression, anxiety, obsessive-compulsive disorder (OCD), attention-deficit hyperactivity disorder (ADHD), bipolar disorder, post-traumatic stress disorder (PTSD), autism, schizophrenia, chronic pain and substance abuse, and has been shown in peer-reviewed published studies to improve patient outcomes and reduce overall medical costs. Each Assay provides clinicians with an easy-to-read patient report and a complimentary psychopharmacogenomic consultation. Learn more at www.genomind.com