Pharmacogenetic
(PGx) Testing
Turn genetic data into actionable treatment insights that can help you narrow down medication choices and personalize dosing.
Reporting options to suit your
approach to treatment planning
Assess patient results with our flexible report views.
NEW!

Express Report

Quickly and simply summarizes medications to avoid, and suggests alternatives for patients based on their unique gene-drug interaction profile and published PGx guidelines
NeuroPsych Report
This report contains 5 sections and tests for 26 genes, providing insights across multiple conditions and 130+ neuropsychiatric medications.
Diagnosis Summaries
Results are organized into visually plotted views based on clinical diagnosis. When you're running short on time – this may be the report view for you!
Pharmacodynamic Gene Variation Report
Assess
15 pharmacodynamic (PD) gene results
to understand how their genotype may affect tolerability and/or likelihood of responding to specific therapeutic options.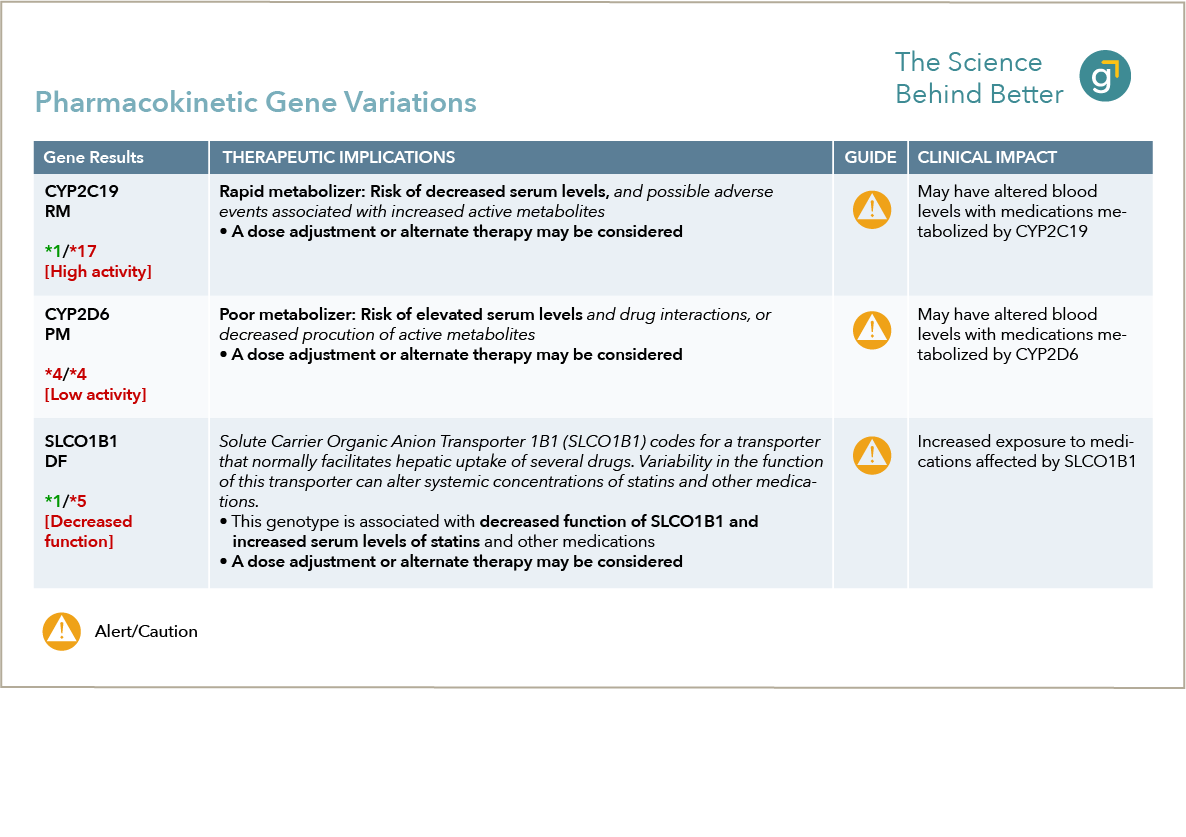 Pharmacokinetic
Gene Variation Report
Evaluate
11 pharmacokinetic (PK) gene results
to
understand the function of your patient's genetic
variant and how their genotype may affect drug
metabolism and absorption of certain drugs.
Gene-Drug Interaction
Summary Report
Understand how your patient's genetic profile
interacts with commonly prescribed medications
synthesizing both the PK and PD results for each
drug. Understand how their genotype may influence biological response, drug absorption, metabolism, or blood-brain barrier penetration.
Diagnosis-Specific
Summary Report
All results are ingested into one visually plotted
view based on clinical diagnosis. When you're
running short on time – this is the report view for
you!
Gene Overview Page
A snapshot view of your patient's genetic profile. Gene results are separated into their respective categories for ease of use.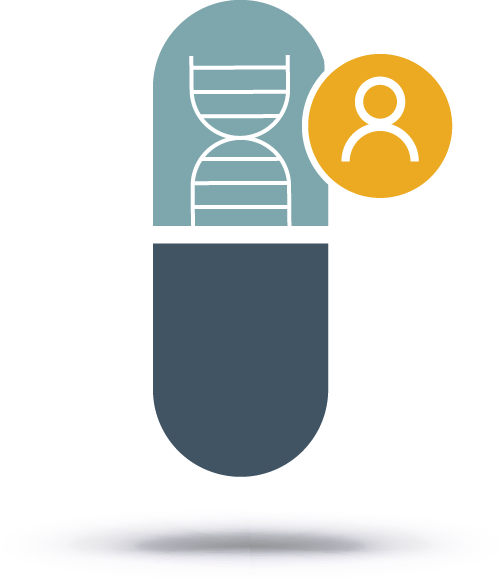 Genetic information should be essential when prescribing
Gain a better understanding of the patient's unique genetic profile to reduce the painful process of trial and error and interaction risk.
medications contain FDA warnings, dosage recommendations or drug-drug interaction guidance based on specific gene variants.9
of Genomind clinicians report they can now make safer, more informed treatment decisions with a higher level of confidence.
10
Pharmacogenomics can play an important role in identifying responders and non-responders to medications, avoiding adverse events, and optimizing drug dose.
- Food and Drug Administration
Personalize medication plans with ease
We make it easy for you and your patient to assess these critical
treatment insights without compromising accuracy or depth of information.
Access comprehensive genetic insights
with 15 PD genes, 11 PK genes to
assess over 700 medications
Enjoy fast, easy, and accurate processing. Painless cheek swab collection, results in 3-5 days or less with a 99.9% laboratory accuracy
Seamlessly incorporate into your
care model with collection options
for your office or directly to your
patient's home
Offer payment options that work for
your patients. HSA/FSA eligible,
flexible payment plans, and financial
assistance available
Ordering, tracking, and status updates related to your testing results can be easily accessed by logging on to our Precision Health Platform after you register with Genomind.
Built on the most up-to-date clinical evidence
As science evolves, so do we. Learn about the evidence the report
was built on and our commitment to staying current.
PGx is the future of medicine. I use it to bring precision to my prescribing. Now, I can more accurately predict adverse drug events, even outside of my specialty. This process builds better relationships with patients and other providers.

Jennifer Reed, FNP-BC, PMHNP-BC
Private Practice Owner, Board Certified in Family Practice and Psychiatric Mental Health
Access critical treatment insights today.