We are at a truly unique point in medical history – doctors and patients now have more information and data available to them, creating a greater understanding of the human body than ever before. One groundbreaking evolution that has arisen is "pharmacogenetic testing," which combines clinicians' pharmacology knowledge with the study of how genes affect a person's response to drugs.
Pharmacogenetic testing, such as Genomind's Professional PGx Express™ is a simple, pain-free genetic test performed on a cheek swab from the patient. This test can help your clinician determine what mental health treatment may work best for you.
But what happens after a clinician collects a sample from a patient for a genetic test? Here is a look at where the swab goes – from the patient's cheek, to the lab, and back to the clinician in the form of test results.
1. Sample Collection
Genomind uses standard swabs that require only a small sample of patient cells (known as a buccal sample). These cotton swabs are rubbed on the inside of the patient's cheek in a non-invasive and painless way. Genomind collects two swabs from each patient, which provides the lab with a backup sample. The swabs are put into secure envelopes and sent to the Genomind lab right away for testing.
2. Accessioning
Upon arrival at Genomind, the swabs are sent to the Accessioning group. Accessioning ensures the sample arrived in good condition, and that all required paperwork was filled out and sent along with the sample. Once all paperwork is completed, the sample can be sent to the lab.
3. DNA Isolation

Once the sample arrives at the lab, it is placed into a batch. All samples within a batch will be processed together, starting with DNA isolation – which is the removal of the DNA from the cells. The lab places one of the two swabs sent by the patient into a tray with other control samples. A map of exactly which sample swab is located where is created and printed out.
Patient cells collected on the swabs are opened up by exposure to an enzyme, and the DNA is collected on magnetic beads. Proteins and other biological material are washed off, and the highly enriched DNA is collected.
At this point, the swab itself is discarded as medical waste. The backup patient sample swab is stored at room temperature in the event the lab needs it.
4. Testing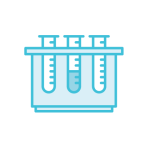 At this stage, the patient DNA is used for a number of different tests to examine variations that occur commonly among humans. Genomind examines variations in 18 different genes. One example is the Serotonin Transporter (SLC6A4 or SERT) gene assay. This gene is tested by two reactions, and the results are documented by a digital photo.
Most genetic testing as a part of the Genomind Professional PGx Express™ is performed by a technique called real-time PCR, which tests each gene for the presence of a particular variant nucleotide at one particular DNA location. Genomind tests 60 of these locations (also called Single Nucleotide Polymorphisms or SNPs) for each patient sample. The presence of particular SNPs in a patient, which vary commonly among humans, can also help clinicians make better decisions about mental health treatments for that particular patient.
5. Reporting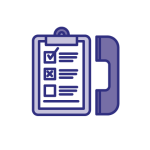 All the results from the above lab testing go to our Clinical Operations team to ensure they are translated into the correct clinical interpretation for each patient. Drug interaction information is also presented in the individual patient report (see a sample report here). Clinicians will either have the patient results faxed to them, or access them via a secured Genomind portal. This process takes between 3-5 business days after the sample is received at the lab in most cases. Clinicians also have access to our expert clinical team of MDs, Ph.D.s and Pharm. D.s to consult with them on each individual patient's results to help ensure they fully understand the report, and can formulate a personalized treatment plan.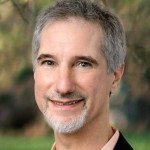 Dr. Robbins serves as the Senior Vice President of Molecular Pathology and the Laboratory Director, and is responsible for all aspects of laboratory operations at Genomind.