Patients dealing with a mental health issue and advocates in the space can take pride in knowing their efforts to educate Americans are yielding some success. That's one of the takeaways from this year's annual Genomind Mental Health Poll.
For instance, people are more likely than last year to say they know someone with mental illness. Reporting knowing someone with mental health issues has increased the most among women, those in the Gen X age category, Hispanics, and those living in the South. We interpret this to mean people are more comfortable talking about their mental health struggles, or others are more open to hearing about them (or maybe both).
Americans are also showing increased understanding of the treatment options that are available. For instance, a clear majority (67 percent) would be willing to take a genetic test to determine the best treatment plan for mental illness if recommended by a doctor — an increase of 4 percent over last year's poll that asked the same question.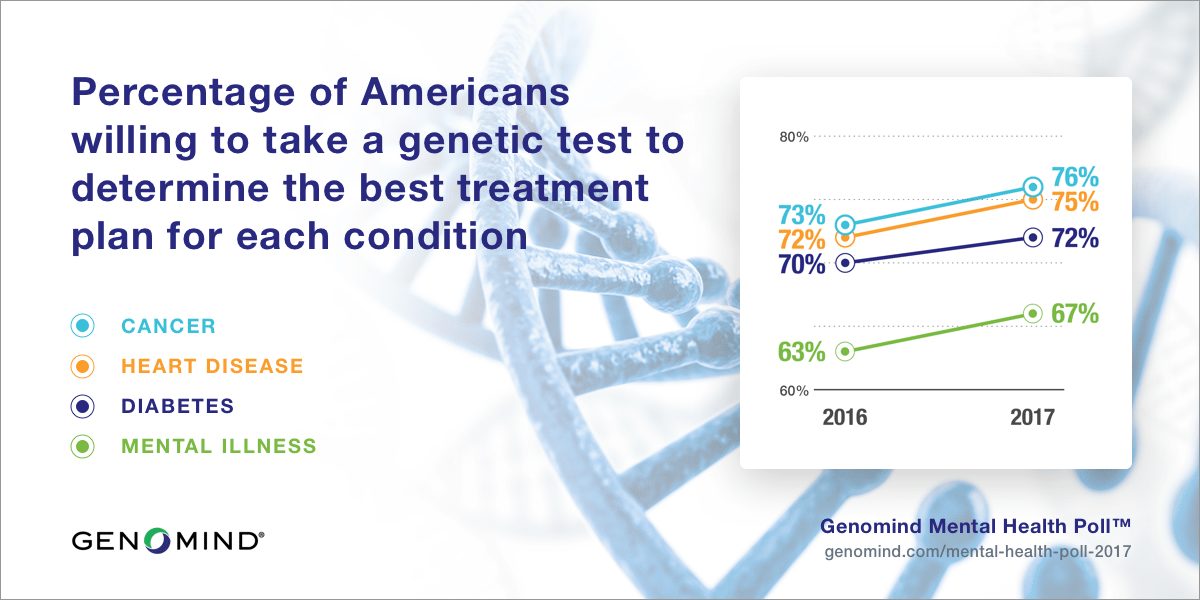 Perhaps part of the key to this progress has been people in the spotlight talking about their own mental illness. Recently, Olympic champion Michael Phelps spoke about his issues with depression. The poll found that athletes sharing their stories would be more influential in terms of helping to overcome the stigma associated with mental health, as they are seen as the most effective advocates (more so than celebrities, elected officials and CEOs).
Genomind is proud to underwrite this poll and release it during Mental Illness Awareness Week 2017, as we feel it's essential we understand the progress that has been made, as well as the challenges that exist in understanding conditions of the mind. Clinicians, researchers and advocates are to be commended for the increased understanding and acceptance we have noted over the last year in terms of more effective ways to treat these patients utilizing personalized medicine.
Poll Overview
The Genomind Mental Health Poll 2017 is based on 1,000 interviews that were conducted September 7–11, 2017, by internet survey. The Bayesian confidence interval for 1,000 interviews is 3.5, which is roughly equivalent to a margin of error of ±3.1 at the 95 percent confidence level. The independent poll was conducted by Lincoln Park Strategies.